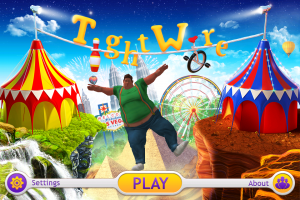 Today is the official launch of TightWire Adventures and TightWire Adventures HD by iBright Studios! I developed TightWire Adventures for iBright and it is a really great spin on their very successful original TightWire game! TightWire Adventures offers 15 new unique 3D levels, and the hero now can ride a unicycle across the tight wire. There is also a new feature that allows you to earn and activate power-ups depending on your performance, which is really incredible. There is a version for the iPhone that supports retina graphics for the newer iDevices and a separate version titled TightWire Adventures HD for the iPad. The gameplay and UI are some of the best of the App Store, so please give it a try and let your friends know about it also! (You can click on any of the images to see a larger version.)
TightWire Adventures (for the iPhone and iPod touch)
TightWire Adventures HD (for the iPad)
Here is the description from iTunes:
"Yes, he's back, and he's more daring than ever.
TightWire and its unlikely hero return for a second round of face-smashing, gravity defying, TightWire walking. He flips, he dances, he rocks. Welcome to TightWire Adventures.
WALK, and now UNICYCLE through 15 incredible 3D levels of varying difficulty and length. Battle gravity and projectiles as you try to make it across the TightWire using the accelerometer. A fun-filled game for every age category!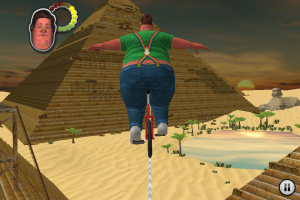 FEATURES:
-15 incredible, real world levels!
-Master walking and unicycle for each level!
-Interactive projectiles unique to each level!
-Multiple power-ups, falls and dances!
-Easy to learn but hard to master!
-High resolution Retina graphics!
-GameCenter achievements!
-Updates to come – More skills, more falls, more levels and more game modes in the works!
!!!!!THANK YOU TO ALL THE TightWire FANS ACROSS THE WORLD!!!!!"